CINZIA DATO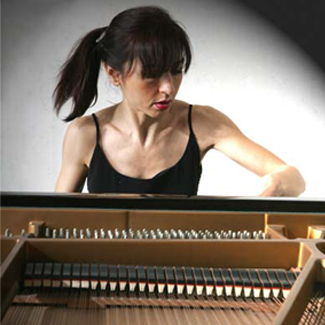 Daughter of art (her mother was an excellent pianist, who died prematurely and her grandfather Carmelo Coletta was composer and conductor, in early 900, the musical magazine Mandolinismo, Luchsingen, Switzerland) received her diploma in piano at the State Conservatory "A. Corelli" Messina under the guidance of M. Trombetta, with special permission of the Ministry of P. I. at nineteen, with honors.
She studied from 1986 to 1991 attended the masterclass of Italo Argentinian Fausto Zadra, at the Ecole International de Piano in Lausanne (Switzerland). Later she was a master class processing and interpretation with P. Rattalino and in 2001 she won a scholarship to the Hochschule Staatlichen Musik in Karlsruhe (Germany) with Gunter Reinhold, descendant of the famous pianist A.Cortot from school.
Winner has emerged in over thirty major national and international piano competitions in 2001 and was awarded International Grand Prize Competition all'Ibla with a tour in England, America and Japan, which has seen performing in the world's largest (Statehouse Center, Arkansas, Lincoln Center, New York, New York University, Opera City, Tokyo, etc..).
Plays a constant and intense concert activity as soloist and in chamber music ensembles, addressing cultural programs of particular interest, receiving everywhere wide acclaim from critics and audiences. She played with the Orchestra of the Province of Lecco, conducted by Canadian M. Brousseau and by G. Colombo, the Milan Philharmonic, the orchestra "A. Vivaldi" of Bergamo, with the orchestra of the University of the Arts in Klaipeda (Lithuania), directed by A. Lukosevicius, etc.
Concert work alongside the teaching at the State Conservatory "F. Cilea" of Reggio Calabria, where the winner of the competition in ordinary examinations and teaching qualifications (DM90), is Professor of Piano and covers the main lectures in History and Analysis of the Repertory, Performance Practice and Repertoire, Performance Practice and Repertoire of the Orchestra, Instrumental Learning Methodology with regard to academic courses level 2 to confer a degree in musical disciplines. She is a jury member in international piano competitions and regularly gives masterclasses Postgraduate Piano.
In 2009 she held a seminar on the interpretation of Mozart at the Faculty of Arts University in Klaipeda (Lithuania), where she was later invited to give concerts as a soloist, in chamber and orchestra, taken from live first broadcaster Lithuanian National Television.
In 2012 he held a seminar on the interpretation of Chopin in the University Faculty of Arts in Klaipeda. She recently produced a double CD, CINZIA DATO Piano Solo, produced by Panamusic Records and distributed by Radiocorriere TV, where she gathered a small part of her vast and eclectic piano repertoire, presented through a key-based careful philological study, however, filtered through her sensibility and artistic interpretation. This project earned her the award, live on SKY, the Prize "Una vita per la musica, Ottant'anni Radio Corriere TV"………vedi versione italiano
.